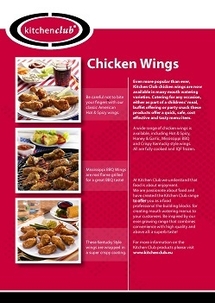 To keep you up to date with our ever growing range of products and to support you in the sales of our products we have developed a number of new leaflets.
The leaflets highlight the products available in each of the following Kitchen Club product categories:
- Chicken Wings
- Chicken Specialities
- Pork Spare Ribs
- Specialities
We will of course continue to develop new products in the range. So, for the latest product ideas or special requests please contact your local distributor. The leaflets are available in PDF format under downloads.