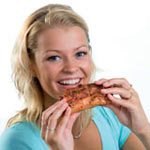 The Kitchen Club product range is developed by professionals for professionals. Our products combine convenience with quality and innovation to enable you as a professional to create qualitative, surprising food solutions that make your customers ask for more!
We are constantly looking for new convenience products and concepts to make sure you can focus on developing an attractive menu while we take care of supplying the best products available on the market.
To guarantee you an attractive menu with first class products we focus on three core values that will help enhance your business:
Quality and pleasure: Demanding consumers
Pleasure and quality are of prime importance. All our products are produced with the best ingredients and under strict hygiene and quality regulations. To ensure this, all our production facilities are HACCP certified and in addition are either BRC (British Retail Consortium) or IFS (International Food Standard) accredited.
Innovation: Variety is key
Only with change and new ideas can more sales be achieved. We constantly search for new products, ingredients, product combinations, preparations and packaging solutions. We have our own experienced product development department and continuously scan the international markets by visiting international food exhibitions, conferences and seminars.
Convenience: Indispensable for experts
Convenience food suits professional kitchens. Our products are carefully selected and developed to fit seamless into the characteristics of professional kitchens. We are constantly on the look out for high quality food with flexible and short preparation times in combination with convenient storage conditions.